25 MOST INTERNATIONALLY CONNECTED AIRPORT IN THE WORLD: OAG Megahub 2019
The OAG Megahubs Index 2019 reveals the 50 most internationally connected airports in the world and the 25 most domestically connected airports in the U.S. The index is generated by comparing the number of scheduled connections to and from international flights with the number of destinations served from the airport. The Megahubs Index harnesses the world's most comprehensive schedules database to dynamically build connections through a dedicated analytics platform, Connections Analyser and is further enhanced by OAG's MCT Exception Table
London Heathrow (LHR; International Connectivity Index: 317) is the world's most internationally connected airport for the third straight year. On the busiest day in aviation this year, over 65,000 international connections were possible within a six-hour window. Frankfurt International Airport (FRA; ICI:309) moved up one spot in this year's global rankings, giving Europe the top-two spots in the world. Chicago O'Hare (ORD; ICI:290), Amsterdam (AMS; ICI:279), and Munich (MUC; ICI:259) followed closely behind.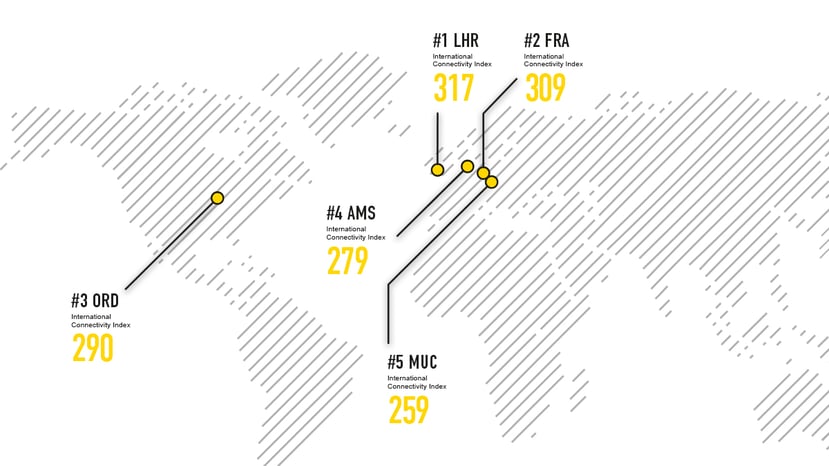 The most connected international hubs in the Asia Pacific include Singapore in ninth (SIN; ICI: 240), Hong Kong in 10th (HKG; ICI:234), Incheon in 11th (ICN; ICI:233), and Bangkok in 14th (BKK; ICI:214). Kuala Lumpur (KUL; ICI:150) is the most connected Megahub in the world for low-cost carriers (LCCs).
Chicago O'Hare (ORD; Domestic Connectivity Index: 459) leads North America in connectivity for the fourth consecutive year and is the third most internationally connected airport in the world. On the busiest day in aviation this year, 83,580 domestic connections were possible within a three-hour window at ORD – 2% more than last year. United Airlines operates the majority of flights at O'Hare at 48%, down 2% from 2018.
Air India B787 Dreamliner Cabin Experiences Water Leak During midflight
On November 29, an Air India flight en route from Delhi to London Gatwick Airport faced a mid-flight cabin leak originating from an overhead storage unit. The incident involved a water leak within the cabin of an Air India 787 Dreamliner while flying over India.
Despite the unexpected situation, the cabin crew maintained a reassuring demeanor, encouraging passengers to remain calm. There was also a leak of water from the plane's roof, so the pilot urged the passengers not to panic.
The odd thing is that, based on videos posted online, passengers did not appear to be significantly impacted when the leak was reported by a crew member. The leak may have been caused by a cooling system malfunction, though this is suspected.
A passenger shared the video on X, showing water continuously dripping onto passengers' seats from overhead bins. A user commented, "It's possible that some travellers left their fully filled water bottles in their cabin luggage, which could be the cause of this. They advise us to carry water bottles because of this. The company may not be the only one at fault. "Can passengers request a refund in situations like this?" asked another.