Embraer presents the Energia Family – Four New Aircraft Concepts
São José dos Campos, Brazil, November 8, 2021 – Embraer today announced a family of concept aircraft that it is exploring to help the industry achieve its goal of net zero carbon emissions by 2050. The details of the Energia family, the latest in the company's Sustainability in Action initiative, were broadcast live via YouTube from Embraer's manufacturing facility in São José dos Campos.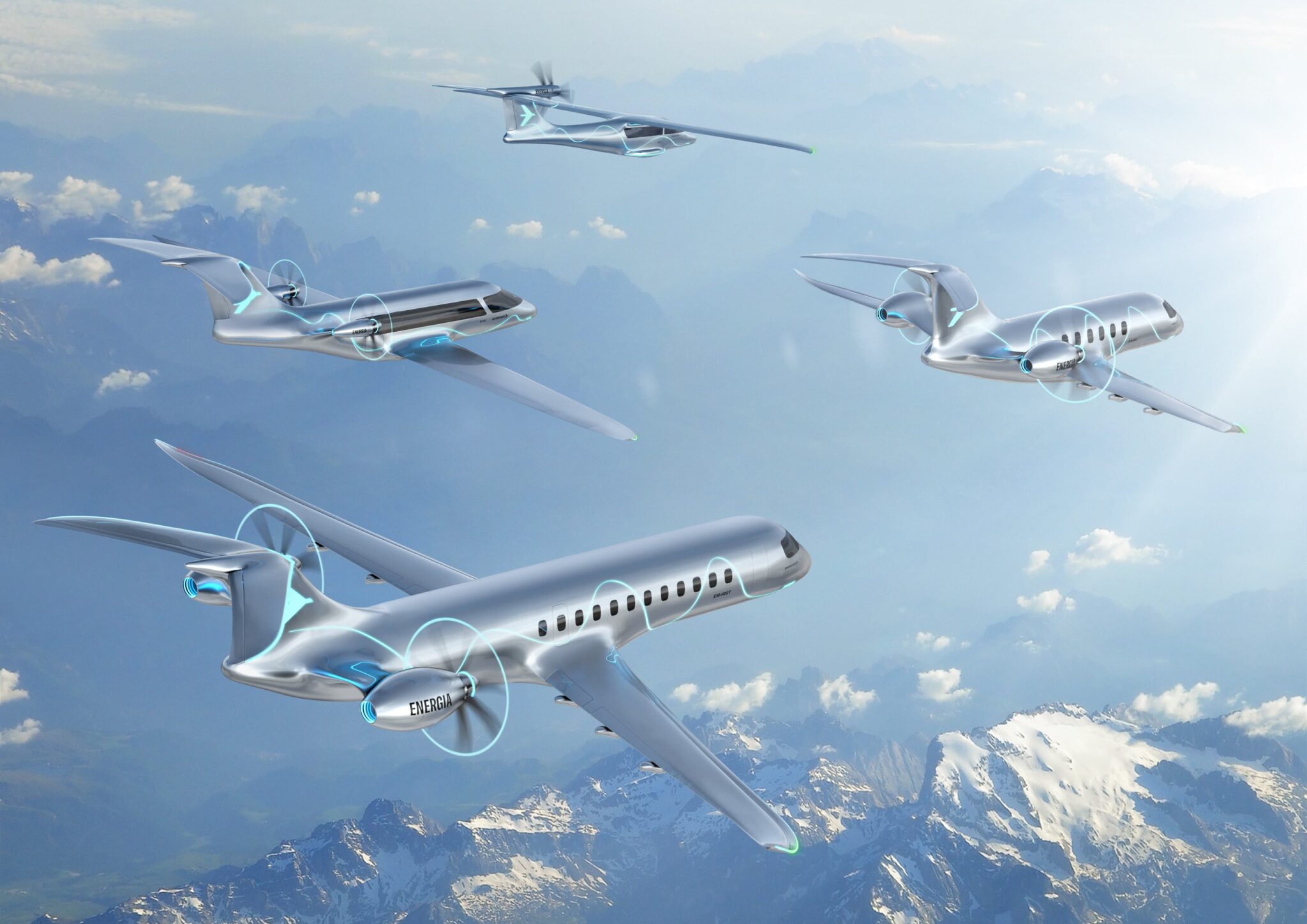 The company has partnered with an international consortium of engineering universities, aeronautical research institutes, and small and medium-sized enterprises to better understand energy harvesting, storage, thermal management and their applications for sustainable aircraft propulsion.
The Energia Family is comprised of four concept aircraft of varying sizes that incorporate different propulsion technologies – electric, hydrogen fuel cell, dual fuel gas turbine, and hybrid-electric.
Energia Hybrid (E9-HE)
• hybrid-electric propulsion
• up to 90% CO2 emissions reduction
• 9 seats
• rear-mounted engines
• technology readiness –2030
Energia Electric (E9-FE)
• full electric propulsion
• zero CO2 emissions
• 9 seats
• aft contra-rotating propeller
• technology readiness – 2035
Energia H2 Fuel Cell (E19-H2FC)
• hydrogen electric propulsion
• zero CO2 emissions
• 19 seats
• rear-mounted electric engines
• technology readiness – 2035
Energia H2 Gas Turbine (E50-H2GT)
• hydrogen or SAF/JetA urbine propulsion
• up to 100% CO2 emissions reduction
• 35 to 50 seats
• rear-mounted engines
• technology readiness – 2040
Each aircraft is being evaluated for its technical and subsequent commercial viability. Luis Carlos Affonso,
Embraer's Sr. VP of Engineering, Technology and Corporate Strategy, explained the rationale for the Energia family. "We see our role as a developer of novel technologies to help the industry achieve its sustainability targets. There's no easy or single solution in getting to net zero. New technologies and their supporting infrastructure will come online over time. We're working right now to refine the first airplane concepts, the ones that can start reducing emissions sooner rather than later. Small aircraft are ideal on which to test and prove new propulsion technologies so that they can be scaled up to larger aircraft. That's why our Energia family is such an important platform."
Air India B787 Dreamliner Cabin Experiences Water Leak During midflight
On November 29, an Air India flight en route from Delhi to London Gatwick Airport faced a mid-flight cabin leak originating from an overhead storage unit. The incident involved a water leak within the cabin of an Air India 787 Dreamliner while flying over India.
Despite the unexpected situation, the cabin crew maintained a reassuring demeanor, encouraging passengers to remain calm. There was also a leak of water from the plane's roof, so the pilot urged the passengers not to panic.
The odd thing is that, based on videos posted online, passengers did not appear to be significantly impacted when the leak was reported by a crew member. The leak may have been caused by a cooling system malfunction, though this is suspected.
A passenger shared the video on X, showing water continuously dripping onto passengers' seats from overhead bins. A user commented, "It's possible that some travellers left their fully filled water bottles in their cabin luggage, which could be the cause of this. They advise us to carry water bottles because of this. The company may not be the only one at fault. "Can passengers request a refund in situations like this?" asked another.